¡Noticias emocionantes!
Únete a nuestro Programa de Capacitacion Informática e Iniciativa Laboral, presentado por la Fundacion de Vigor de la Camara de Comercio de Eagle.  Nos emociona tener la oportunidad de ofrecer clases locales de alfabetización digital para adultos hispanos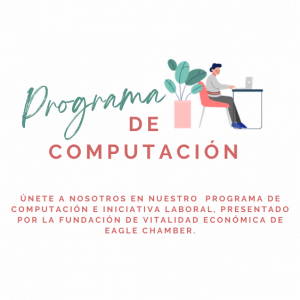 de nuestra comunidad! Aquí tienes los detalles del programa:
● 3 módulos interactivos
● Cada módulo dura 4 semanas
● Clases de 90 minutos
● Servicio de cuidado de niños
● Refrigerios y bebidas incluidas
Además de aprender a usar una computadora, los estudiantes descubrirán cómo navegar Windows y Microsoft, utilizar Google Workspace, comprender la ciberseguridad, el uso del correo electrónico y mucho más.
¡Nuestro programa también enseñará a los estudiantes cómo crear un currículum, buscar oportunidades de empleo en línea y equiparlos con las habilidades necesarias para tener éxito en el mundo laboral!
Esta iniciativa laboral demuestra el compromiso de la Camara de Comercio de Eagle en mejorar el vigor económico de nuestra comunidad al conectar a los trabajadores con los empleadores y proporcionar oportunidades para mejorar la calidad de vida.
Las clases comienzan en Octubre y continúan hasta Febrero, con la graduacion de nuestros estudiantes. ¡No te pierdas esta increíble oportunidad!
*Si estas interesado en nuestro curso de Capazitacion Informática, por favor, regístrate hacinedo click en el botón de "Registrarse". Si tiene problemas con el formulario envíae un correo electrónico a salina.gladis@gmail.com or anne.pasquale@eaglechamber.co con tu nombre y contacto para acceder a este curso.
Computer Literacy Program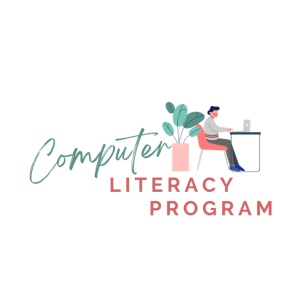 Exciting News
Join us for our Computer Literacy Program and Workforce Initiative, brought to you by the Eagle Chamber's Eagle Economic Vitality Foundation.  We are excited to provide local computer literacy training for Hispanic adults in our community! Here are the program details:
3 interactive modules
Each module lasts 4 weeks
90-minute classes
Child care provided
Snacks & beverages provided
In addition to learning how to operate a laptop, students will discover how to navigate the Windows & Microsoft laptop environment, use Google Workspace, understand cyber security, manage email, and much more! Our program will also teach students how to create a resume, search for employment opportunities online, and equip them with the skills they need for success in the workforce.
This workforce initiative exemplifies the Eagle Chamber's commitment to enhancing the economic vitality of our community by connecting workers with employers and providing stimulating opportunities to improve lives.
Sessions begin in October and continue until February when our fantastic students graduate. Don't miss out on this incredible opportunity!
*Anyone interested in our Computer Literacy course, please register through the intake form linked above through the Sign Up button. If you have trouble with the intake form, please email salinas.gladis@gmail.com or  anne.pasquale@eaglechamber.co  with your name, and contact information about accessing this course.