Eagle Chamber Ambassadors
The Eagle Chamber Ambassadors are engaged Members who create awareness about the Chamber by promoting the benefits of the organization. Ambassadors provide mentorship and support for new and existing Members. Being an Eagle Chamber Ambassador creates opportunities to connect with other individuals in the community and is a crucial link between the Chamber, it's Members and the business community at large that helps foster an active business environment.
Some Eagle Chamber Ambassador Benefits:
Increased name and face recognition
Increased networking opportunities
Increased business exposure
Opportunities to connect one-on-one with new and existing Members
Increased referral opportunities
Potential media coverage
Gain insider's perspective of local business community and economy
Digital promotion displayed on digital Membership packages
Opportunity to meet local business and community leaders
Chance to serve the community and exhibit community pride
Increased social relationships and activities
Some Ambassador Activities:
Describe Chamber benefits to others for recruitment and new Membership adaptation
Actively promotes Chamber and invites others to join
Assists at monthly functions
Serves other Chamber committees of interest
Engages Member social media channels
Proposes additional programs and events
Eagle Chamber Members are encouraged to join the Ambassadors for their regular monthly meeting and other Ambassador activities. Please reserve your seat in advance by contacting Michelle Morgan at michelle.morgan@eaglechamber.co.
If you're an Eagle Chamber Member and Interested in joining the Eagle Chamber Ambassadors, we'd love to have you! Reach out to Michelle Morgan at michelle.morgan@eaglechamber.co for more information.
Reach out to the Eagle Chamber Ambassadors!
The Eagle Chamber of Commerce hosts 2 monthly Leads Groups. The goal of the Leads Groups is to share leads to generate business for its participants by developing trusted relationships through networking. The two separate Leads Groups contain Individuals from non-competing businesses and meet once per month in a formal one-hour meeting to network, share leads and referrals, as well as sales ideas and professional advice.
Members are encouraged to meet outside of the monthly meetings to help grow their relationships and better understanding of each other's businesses. We know and understand that "people do business with people they know and trust!"
Each meeting the group members share, in 2 minutes, the foundation of their business, to help the group give them well-qualified leads. Every month 1 member gives a 10-15 minute presentation to delve deeper into their products or services. Each meeting ends with an update on the Eagle Chamber of Commerce's news and events.
Occasional, informal after-hours functions bring together all Leads Group members to help deepen relationships and increase the benefits of group membership.
Both Leads Groups are made up of Eagle Chamber Members from different industries in the community. There are no similar business industries in any group, making sure there are no conflicts of interest. All industries are welcome!
Leads Group Members are available to Eagle Chamber Advantage, Charter, Leadership, Executive and Director's Circle Members.
Each of our two Leads Groups meets once a month. One group meets on the third Tuesday of the month at 9 am and the other group meets on the second Thursday of the month at 9 am.  The meetings last for one hour at the Eagle Chamber Committee Headquarters located on the upper level of the Eagle Information Center at 100 Fairgrounds Rd. in Eagle. Additional social events are outside of this time frame, but are always optional.
1. Be Consistent!  Consistency pays off, both for you and the group. Make it a priority to attend every meeting each month. This shows your dedication and dependability to other group members; they need to feel you'll take care of the referral they're giving you!
2. Be Patient!  Like most prospecting tools, leads groups take time to develop and to produce results. If you expect to receive a lot of leads (and sales) immediately you may be disappointed. It takes time for other members to get a good feel for you and your business – and to build that trust. Try to keep focus on your long-term results and MOST IMPORTANTLY read #3!
3. Give Referrals: as many referrals as you can!  As a general rule, the more referrals you give, the more referrals you will get. Make it a point to listen to family, friends, colleagues and clients for their needs and how to match those needs with someone in your Leads Group.  The more referrals you give to others will put you on their radar to provide leads to you!  Remember "you must give in order to receive". It's a win-win proposition.
A Warm Eagle Welcome
The Neighbor 2 Neighbor Committee rolls out the red carpet for new residents and business owners in Eagle.
Creating welcome gifts full of local coupons, products and business information, Eagle Chamber committee members go door-to-door to give our new neighbors a friendly Eagle welcome, answer questions and share advice about integrating in the community. Ultimately, the vision of the N2N Committee is that when people move to Eagle they will feel a "warm welcome" upon arrival, that they will want to build a life in our valley, and they can more easily find the resources to do so.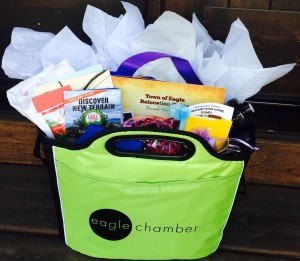 Inspiring Business Growth
Eagle has an active business community, and we want to help businesses establish local spending habits. One of the best ways to do that is to let our very own residents know what you have to offer! Participation in our N2N program allows businesses to sow those seeds early and continue to grow customer loyalty.
Since 2016, we have delivered hundreds of welcome gifts annually to new Eagle homeowners.  If you know of a newcomer to Eagle, if you are interested in meeting your neighbors around town, or including your business in our welcome gifts, please send an email to michelle.morgan@eaglechamber.co and ask how you can get involved.
Telling Our Story and Yours
The Membership & Marketing Committee takes a lead role in promoting Chamber memberships, programs and events, and promoting our member businesses.
Working in concert with the Town of Eagle, we also:
Position Eagle as a vibrant place to live, work and do business;
Elevate the business community's brand through professional marketing materials;
Maintain a robust website, blog, email and social media program;
Profile success stories about our members;
Seek PR opportunities to feature member businesses; and
Raise awareness, engagement and participation with members, residents, and partners.
For more information please contact the Chamber Administrator.